Go Green with Your Monthly Bank Statements
Reviewing your bank statements should be easy. Instead, you have to cram them into a file drawer or shred them before recycling them. eStatements takes your monthly bank statements online.
No papers to file, no records to shred. You get convenience while helping us save paper!
---
What are eStatements?
They are your monthly bank statements in electronic form! eStatements are delivered as PDFs within your Online Banking account.
They are available the same day they are created at the bank
You'll receive an email that your eStatement is ready; simply login to Online Banking to review it
Scanned images of your checks written during the last period are included
The search feature allows you to easily find a certain transaction
You can also easily magnify any part of the statement for clearer reading
Viewing eStatements requires Adobe Reader.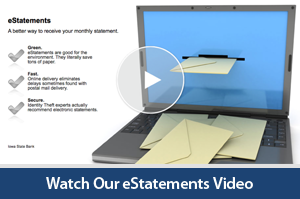 ---
Getting started with eStatements is simple!
You can enroll and choose which accounts you want to receive eStatements by logging in to your online banking.
Once you've logged in to online banking, click on "Profile", then click on "Edit" for Electronic Statements. Now you can choose which accounts you want to receive eStatements.
Customers must have a checking or savings account in order to qualify for eStatements.
Questions? Call your local branch to speak with a representative.